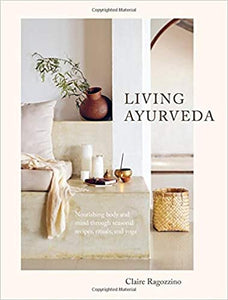 Living Ayurveda Nourishing Body and Mind Through Seasonal Recipes, Rituals, and Yoga by Claire Ragozzino
Regular price $35.00 Sale
Hardcover
A hands-on holistic guide to self-care based on the ancient wisdom of Ayurveda—learn how to build a daily personal practice using food, breath, movement, and meditation to stay balanced and nourished through the seasons. 

Nourishment comes in many forms—it's the food you eat, how you breathe and move your body, and the way you establish your daily routine. Living Ayurveda weaves together the ancient wisdom of Ayurveda and Yoga in a modern, accessible way to provide a season-by-season guide for living a vibrantly rich year. Part cookbook, part lifestyle manual, each chapter includes simple vegetarian recipes, seasonal rituals, and self-care practices to cultivate your inner wisdom and feed your body, mind, and spirit. 
 
In this book, you'll find:

   • 80+ delicious vegetarian recipes to balance the body and strengthen digestion through the seasons
   • Illustrated menu guides and cooking tips that demystify the process of building a balanced meal
   • Yoga sequences and breathing techniques to help align with the energy of each season
   • Seasonal rituals based on moon cycles to strengthen your intuition and develop a personal routine at home 

Learn from ancient wisdom to know yourself intimately, be open to new discoveries, and see where this path takes you to allow a deeper wisdom to blossom in your life.