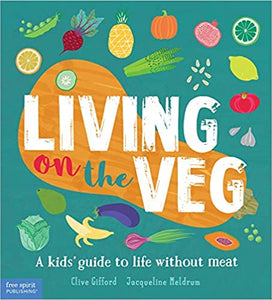 Living on the Veg A Kids' Guide to Life Without Meat by Clive Gifford
Regular price $18.99 Sale
Hardcover
A lively guide explains why people "go veg" and how kids can change their diet to eat less meat.

"If you're thinking of turning vegetarian and living on the veg or have already taken the first step, remember this: You are not alone!" With kid-friendly language and lots of information, longtime vegetarians Clive Gifford and Jacqueline Meldrum offer kids advice and support in this guide on going vegetarian and eating less meat. Living on the Veg explores key reasons why people go vegetarian—from reducing animal cruelty to improving their health to protecting the environment and others. Various eating styles such as vegetarian, pescatarian, flexitarian, and vegan are explained.

"So you've thought long and hard about it and decided to live life on the veg." What now? A Q&A section gives kids answers to common questions people might ask them as new vegetarians, while information on maintaining proper nutrition is explained in easily digestible bites. Plenty of tips on living a veggie lifestyle—including breaking the news to parents, adopting a vegetarian diet, eating well, and options for eating out—offer kids advice and support through challenges and slip-ups as they make this change. Also included is a section with 12 simple vegetarian recipes from Jaqueline Meldrum (author of the Tinned Tomatoes blog) that kids can make with parents to help them get started.