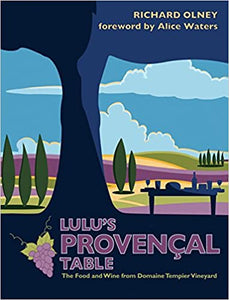 Lulu's Provencal Table The Food and Wine from Domaine Tempier Vineyard by Richard Olney
Regular price $29.95 Sale
Paperback
Richard Olney – responsible for the legendary Time-Life cooking series as well as other cooking classics such as his wonderful Simple French Food (also published by Grub Street) — moved to Provence in 1961 and had the good fortune to befriend Lulu and Lucien Peyraud, the owners of the noted Domaine Tempier vineyard in Provence, not far from Marseilles. Lulu's Provençal Table tantalizes the reader with Olney's descriptions of the regional food served as the vineyard meals at the Domaine. Then he lovingly transcribes Lulu's recipes. She has an empathy with and understanding of Provençal ingredients that is inspirational. There is succulent Pot-Roasted Leg of Lamb with Black Olives served with Courgette Gratin, and Potato and Sorrel Gratin, delicious with just six ingredients. There are plenty of simple recipes, but the recipe for bouillabaisse is a fascinating 10 pages long. 

Her 150 recipes read like a roll call of the best of Provence ̶ tapenade, anchoiade, brandade, pissaladière, bagna cauda, sardines grillées, bouillabaisse, bourride, daurade au fenouil, daube, gigot à la ficelle and ratatouille. Starting with aperitifs and amuse-gueule and finishing up with fruit desserts, hers is classic French country cooking, featuring everyday ingredients cooked with respect for their nature and flavor.

Having been described as 'a gastronomic love poem to France's most exhilarating region,' this is an essential book for any serious food lover's library.