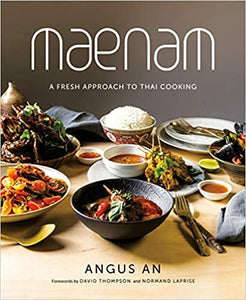 Maenam A Fresh Approach to Thai Cooking by Angus An
Regular price $30.00 Sale
Hardcover
In Maenam, chef Angus An takes you on his ongoing journey of discovering Thai cuisine and shows how to blend traditional Thai flavors and cooking techniques with local, seasonal inspirations from the west coast. With Angus's foolproof instructions, Maenam offers the foundation to modern Thai cuisine for adventurous cooks of all skill levels. Filled with over 100 of his signature recipes, each meal balances robust, intense ingredients with his approach to Thai food's clear, sharp flavours. Transform your kitchen with snacks inspired by Thai street vendors, quick to prepare noodles and one-bowl meals, light- and full-bodied soups to have all year-round, flavorful and protein-filled salads, seasoned stir fries, killer curries, and refreshing desserts.
     Named after Angus's first award-winning Vancouver Thai restaurant Maenam, the Thai word for "river," this cookbook is a celebration of Angus's inventive approach to Thai cuisine that is in many ways representative of a river's constant ever-replenishing flow. Just as a river continues its course around boulders and obstacles, Angus's ongoing evolution and path to becoming one of the most significant Thai chefs in North America is an unlikely one.
     Angus grew up in Taiwan, moved to Canada when he was young, and trained at the French Culinary Institute. He fell in love with Thai cuisine when studying at Nahm under renowned chef and award-winning author, of Thai Food and Thai Street Food, David Thompson. He continues to travel to Thailand to eat, research, and learn. He takes his knowledge home, and finds innovative ways to root a traditional dish to the Pacific Northwest while accentuating each ingredient's flavor, aroma, and texture--all of which you will learn in this cookbook. With its beautiful design, incredible photography, and seasonal menus, Maenam offers a Thai culinary experience like no other.