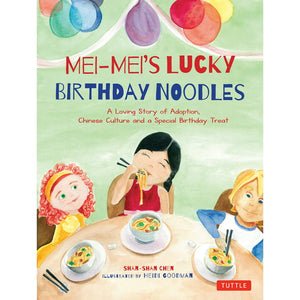 Mei-Mei's Lucky Birthday Noodles by Shan-Shan Chen
Regular price $13.95 Sale
Hardcover
On her sixth birthday, Mei-Mei puts on a special new dress and helps her adoptive mother make a traditional birthday dish from Mei-Mei's home country, China, to share with her loving family.
A loving story of adoption, Chinese culture and a special birthday treat
Mei-Mei is Chinese--but not Mom and Dad! When she was a baby, Mom and Dad flew all the way to the other side of the world to adopt her and bring her home. Lucky for Mei-Mei, her parents want her to know all about her roots in China's wonderful culture. That's why, on her birthday, her mom always makes her a traditional Chinese treat--long noodles, for a long and happy life. And this year, Mei-Mei is big enough to help her mom make them!
Through a simple story and bright illustrations,
Mei-Mei's Lucky Birthday Noodles
takes young readers through this special day, from the moment an excited Mei-Mei wakes up in the morning and puts on her favorite dress, through helping Mom measure water, clean veggies and rinse noodles, to a great birthday celebration with family and friends. After the story comes a kid-friendly recipe for this tasty traditional dish. Younger kids can help Mom or Dad--just like Mei-Mei--while older kids can make it themselves, with supervision.
Along with the birthday excitement and a great Chinese treat, readers will see the adoptive experience at its best--a lot of love and the sharing of roots, showing both parents and kids one of the many ways adopted children from all over the world can learn about the country they come from and take pride in its culture.