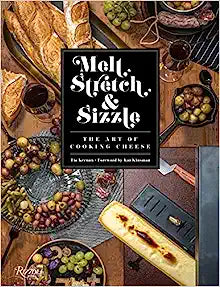 Melt Stretch & Sizzle The Art of Cooking Cheese by Tia Keenan
Regular price $35.00 Sale
Hardcover
Dozens of deliciously indulgent hot cheese dishes, tips on selecting the best cheeses for cooking, tasting notes, wine and beer pairings, producer recommendations, and more expert knowledge make Melt, Stretch, & Sizzle a must-have for cheese lovers.

These easy yet decadent recipes will change the way you eat and cook with cheese. A workhorse of the kitchen, cheese adds depth, flavor, and texture to sauces, soups, sandwiches, dips and snacks, fondues, and every dish you truly love. Melt, Stretch, & Sizzle demystifies recipes for delicate baked ricotta with herbs, a perfectly puffed dutch baby with bacon, pecorino popovers fit for any holiday party, and Brazil's crave-inducing pao de quiejo. Alongside cheese, the humble potato becomes an elegant gratin, is doused in cheese curds and gravy for poutine, and melts into the ultimate aligot. The author also refreshes old favorites, such as studding traditional baked pasta with a whole burrata, and describes a host of creative grilled cheese combinations. The finishing epic raclette spread with multiple menus will inspire your next legendary dinner party.
Keenan imparts useful expertise on the ways the different types of cheese age and melt, educating readers on the right ones to source for each application. Whether looking for all-new avenues of cheesy bliss or modern twists on well-loved dishes, cheese lovers will dive in headlong and never look back.