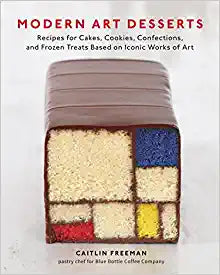 Modern Art Desserts by Caitlin Freeman
Regular price $25.00 Sale
Hardcover
Taking cues from works by Andy Warhol, Frida Kahlo, and Matisse, pastry chef Caitlin Freeman, of Miette bakery and Blue Bottle Coffee fame, creates a collection of uniquely delicious dessert recipes (with step-by-step assembly guides) that give readers all they need to make their own edible masterpieces.

From a fudge pop based on an Ellsworth Kelly sculpture to a pristinely segmented cake fashioned after Mondrian's well-known composition, this collection of uniquely delicious recipes for cookies, parfait, gelées, ice pops, ice cream, cakes, and inventive drinks has everything you need to astound friends, family, and guests with your own edible masterpieces.

Taking cues from modern art's most revered artists, these twenty-seven showstopping desserts exhibit the charm and sophistication of works by Andy Warhol, Cindy Sherman, Henri Matisse, Jeff Koons, Roy Lichtenstein, Richard Avedon, Wayne  Thiebaud, and more. Featuring an image of the original artwork alongside a museum curator's perspective on the original piece and detailed, easy-to-follow directions (with step-by-step assembly guides adapted for home bakers), Modern Art Desserts will inspire a kitchen gallery of stunning treats.