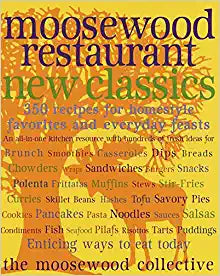 Moosewood Restaurant: New Classics by Moosewood Collective
Regular price $12.00 Sale
Paperback
Not since their phenomenally successful Moosewood Restaurant Low-Fat Favorites has Ithaca, New York's, famed Moosewood Collective assembled such a comprehensive and appealing group of recipes -- all brand-new. Crowd-pleasing fare like Moosewood Muffins, savory risottos, satisfying main-dish salads, and two dozen one-dish meals are just some of the standout recipes in this indispensable collection of easy-to-make dishes. From breakfast to snacks, quick dinners and showstopping entreés to homey desserts, these are recipes cooks will reach for time and again.

As always, Moosewood Collective's enticing, flavorful fare draws on a diversity of culinary traditions. The flavors of Asia, Africa, Europe, and the Americas make for food that is up-to-date and exciting.

Complete with fascinating bits of multicultural food lore, time-saving tips, and interesting side notes gleaned from The Collective's many years as culinary pioneers, Moosewood Restaurant New Classics is an essential resource for every contemporary cook.