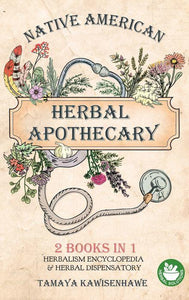 Native American Herbal Apothecary 2 Books in 1 Herbalism Encyclopedia and Herbal Dispensary by Tamaya Kawisenhawe
Regular price $38.99 Sale
Hardcover
Do you want to free yourself from the handcuffs of modern expensive medicine? Would you like to heal common ailments with the ancient wisdom that has been revealed by the Native Americans?
Two manuscripts rolled up in one. Beautifully illustrated, and clearly presented, this bundle will take its place as your premium comprehensive handbook all the herbal remedies you need. And you'll save money in the process.
It covers over 40 native American herbs and provides easy-to-follow instructions for healing 22 common ailments. It also provides notes on the interaction between these herbs and Western medicines, something that has been largely ignored in other references. Moreover, Tamaya reveals several precious remedies from the East Indian and Asiatic traditions.
Before Europeans settled in North America, the indigenous people were practicing herbalism. Native Americans selected plants through keen observations of the wildlife around them. They observed animals seeking out herbs and plants when they were sick and noticed their resulting recoveries. They experimented with these herbs and plants to heal themselves. Unfortunately, this knowledge was passed down by word¬ of mouth for the most part and has been almost forgotten by the present generations. Tamaya is aiming to bring their extensive understanding and healing wisdom of herbal remedies back to life.
Develop a more holistic way of life and free yourself from conventional medicine. Pharmaceuticals focus on pathology, and many pharmaceuticals carry the risk of side effects. Herbal medicine focuses on the health and healing of the person and emphasizes whole-body care and prevention.
NATIVE AMERICAN HERBAL APOTHECARY includes:
• The spiritual history of Native American herbalism
• Herbalism 101: guidelines for sourcing, preparing, drying and storing herbs
• 40+ Native American herbs and plants profiles
• Uses, dosages and benefits
• Caution advises
• Common ailments: abscess and gingivitis, acne, allergies, anxiety, asthma, breath, back pain, bites and stings, bronchitis, pneumonia and chest cold, sunburns and burns, constipation, depression, diarrhoea, fever, heartburn, reflux and Gerd, dyspepsia and indigestion, sinusitis and stuffy nose, sore throat, sprains and strains, skin, wounds
• Detailed instruction for DIY natural medicine