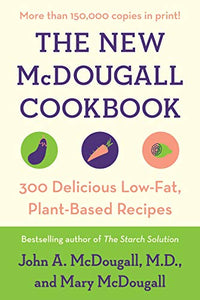 New McDougall Cookbook 300 Delicious Low Fat Plant Based Recipes by John A McDougall
Regular price $20.00 $14.00 Sale
Paperback
Food is our most powerful medicine. And with this revolutionary program, the fat-free way to healthier eating has never been easier—or more delicious.
 
Thanks to John and Mary McDougall, countless health-conscious Americans have learned that our standard meat-heavy diet is hazardous to our health—and that the low-fat solution doesn't have to be low on taste. This collection of three hundred vegan, high-carbohydrate, virtually fat-free recipes offers a well-balanced, mouthwatering mix of fresh fruits, vegetables, legumes, and grains to help you lose weight, reverse illness, and do right by the environment. Inspired by dishes from around the world, the recipes use familiar ingredients and rely on simple and consistent preparation methods.

You will also find:
· An explanation of the groundbreaking McDougall Program and its nutritionally based approach to health,    
· Easy-to-prepare recipes for nondairy drinks, dressings, and sauces that aren't based on oil,
· Ten simple steps to make a lighter version of your favorite recipes,
· An updated "McDougall-Okayed Packaged and Canned Products" list to help you shop with confidence.