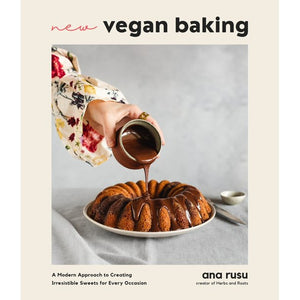 New Vegan Baking: A Modern Approach to Creating Irresistible Sweets for Every Occasion by Ana Rusu
Regular price $22.99 Sale
Paperback
Plant-Based Baking Just Reached a Whole New Level of Flavor
Reawaken your love for all things sweet and become a master of modern plant-based baking. Through this carefully curated and visually stunning recipe collection, Ana Rusu guides you in using vegan ingredients to create mouthwatering, ultra-satisfying baked goods and no-bake treats for you and your loved ones. Ana's recipes pair rich flavors with delicate fruits and aromatic herbs for desserts with beautifully balanced taste and luscious texture, such as:
- Dulce de Leche Bundt Cake with Chocolate Glaze                                                           - Chocolate, Chili & Sea Salt Cookies                                                                                  - Lemon Posset Tart with Raspberry and Whipped Cream                                                 - Chantilly & Diplomat Cream with Tropical Fruit Cake                                                        - Gluten-Free Upside-Down Sour Cherry Cake with Crème Anglaise
While the flavors may sound advanced, Ana's recipes use simple and easy-to-follow instructions, complete with home chef tips to help inexperienced bakers achieve success. With 60 spectacular vegan treats spanning six flavor-forward chapters--Chocolate & Caramel, Fruit, Citrus, Spice, Coffee, Nuts & Seeds and Booze--plus stunning photography with every recipe, every page will fill you with inspiration to pull out the measuring cups and bring sweetness to your day.