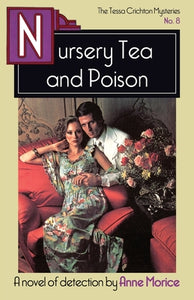 Nursery Tea and Poison by Anne Morice
Regular price $16.99 Sale
Paperback
When she turned round I saw that she had a carving knife in her hand.
Why has Pelham Hargrave returned to his childhood home after twenty-five successful years in Canada and the United States, and is his beautiful and neurotic young American wife quite what she claims to be? Why has a celebrated Hollywood director chosen to retire to a remote English country house, and why does one young woman covet the house and another loathe it? Above all, what is the secret of old Nannie's power, which allows her to dominate the household from her rocking chair?
These are some of the questions which confront the soignée Tessa Crichton, actress wife of Scotland Yard detective Robin Price, when she arrives to spend a quiet weekend with her godmother in Herefordshire. One by one the puzzles are unravelled, thanks to Tessa's spirited and irrepressible curiosity, plus a little help from her husband, but not before two people have died and Tessa herself has narrowly escaped the same fate.