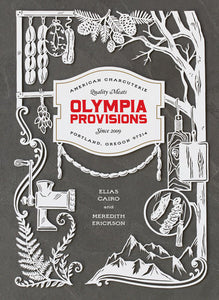 Olympia Provisions by Elias Cairo
Regular price $40.00 $28.00 Sale
Hardcover
A rigorous exploration of what American charcuterie is today from Portland's top-notch meat company, featuring in-depth techniques for crafting cured meats, recipes from the company's two restaurants, and essays revealing the history and personalities behind the brand.


Portland's Olympia Provisions began as Oregon's first USDA-certified salumeria, but it has grown into a mini-empire, with two bustling restaurants and charcuterie shipping out daily to all fifty states. In his debut cookbook, salumist and co-owner Elias Cairo dives deep into his distinctly American charcuterie, offering step-by-step recipes for confits, pâtés, sausages, salami, and more. But that is only the beginning. Writer Meredith Erickson takes you beyond cured meat, exploring how Cairo's proud Greek-American upbringing, Swiss cooking adventures, and intense love affair with the outdoors have all contributed to Olympia Provisions' singular—and delicious—point of view. With recipes from the restaurants, as well as extensive wine notes and nineteen frankfurter variations, 
Olympia Provisions
 redefines what American charcuterie can be.