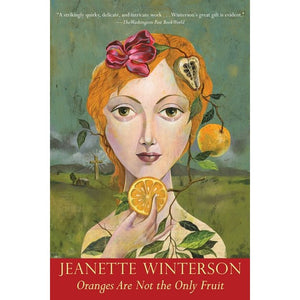 Oranges Are Not the Only Fruit by Jeanette Winterson
Regular price $16.00 Sale
Paperback
Winner of the prestigious Whitbread Prize for best first novel and the John Llewellyn Rhys Prize for best writer under 35, this modern classic has sold 100,000 copies in the United States. The novel chronicles the life of a bright and rebellious orphan who is adopted into an Evangelical household in the dour, industrial Midlands. Her insistence on listening to the truths of her own heart and mind makes for an unforgettable chronicle of an eccentric, moving rite of passage into adulthood. Winner of the Whitbread Prize for best first fiction,
Oranges Are Not the Only Fruit
is a coming-out novel from Winterson, the acclaimed author of
The Passion
and
Sexing the Cherry
. The narrator, Jeanette, cuts her teeth on the knowledge that she is one of God's elect, but as this budding evangelical comes of age, and comes to terms with her preference for her own sex, the peculiar balance of her God-fearing household crumbles.