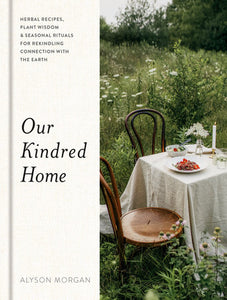 Our Kindred Home Herbal Recipes Plant Wisdom and Seasonal Rituals for Rekindling Connection with the Earth by Alyson Morgan
Regular price $25.00 Sale
Hardcover
Learn to reconnect with plants and nature for collective healing in a world beset by environmental crisis with this herbalism and eco-activist handbook.

"Breathtakingly beautiful . . . a gentle and welcoming hand offering to guide those of us seeking mindful connection and mutually nurturing paths through life in the Anthropocene."—Whitney Leigh Morris, author of Small Space Style

Alyson Morgan, a second-generation Haitian American, grew up feeling disconnected from her roots and suffering from the trauma of racism. To heal herself, she found a connection with the natural world around her: slowing down, respecting the seasons, and growing or foraging plants in her local area. To Alyson, connection with the earth means finding a sense of place and home in an era of stress and overwhelm. Now she shares her methods of homesteading for anyone to practice in their own life. Beautifully photographed, with plant monographs, illustrations, and recipes, Our Kindred Home explores our deep ties to the natural world and offers regenerative and sustainable ways of living. 

Alyson helps readers better understand the deep grief and systemic harm that stems from disconnection with nature, and provides pathways for healing, such as: 

• An exploration of ecological grief and its impacts
• Information for working with subtle body energy
• Tools for observing, identifying, foraging, and cultivating plants
• Methods for creating infusions, honeys, vinegars, and oils
• More than 80 seasonal and 40 plant monographs

With the whole world in environmental crisis, creating a relationship with the earth that is reciprocal rather than exploitative and understanding our fundamental interconnectedness is more vital than ever. In Our Kindred Home, you'll find everyday ways to connect to the earth for resilience, resistance, liberation, and collective healing.