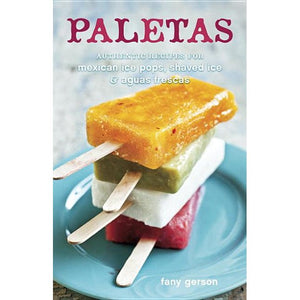 Paletas by Fany Gerson
Regular price $12.00 Sale
Hardcover
The first collection of Mexican ice pop (paleta), shaved ice (raspado), and natural beverage (agua fresca) recipes for the United States from the country's most authoritative voice on Mexican sweets, in a user-friendly, engaging package.
From the pure, radiant flavors of classic Blackberry and Spicy Pineapple to unexpectedly enchanting combinations such as Sour Cream, Cherry and Tequila, or Strawberry-Horchata,
Paletas
is an engaging and delicious guide to Mexico's traditional--and some not-so-traditional--frozen treats.
Collected and developed by celebrated pastry chef Fany Gerson, this sweet little cookbook showcases her favorite recipes for
paletas
, those flavor-packed ice pops made from an enormous variety of fruits, nuts, flowers, and even spices; plus shaved ice (raspados) and aguas frescas--the delightful Mexican drinks featuring whole fruit and exotic ingredients like tamarind and hibiscus flowers.
Whether you're drawn to a simple burst of fresh fruit--as in the Coconut, Watermelon, or Cantaloupe pops--or prefer adventurous flavors like Mezcal-Orange, Mexican Chocolate, Hibiscus-Raspberry, or Lime Pie,
Paletas
is an inviting, refreshing guide guaranteed to help you beat the heat.