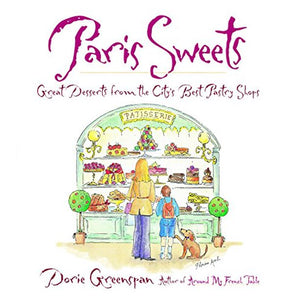 Paris Sweets by Dorie Greenspan
Regular price $20.00 Sale
Hardcover
The prize-winning author of 
Baking with Julia
, among other cookbook classics, celebrates the sweet life with recipes and lore from Paris's finest patisseries.

Like most lovers of pastry and Paris, Dorie Greenspan has always marveled at the jewel-like creations displayed in bakery windows throughout the City of Light. Now, in a charmingly illustrated tribute to the capital of sweets, Greenspan presents a splendid assortment of recipes from Paris's foremost pastry chefs in a book that is as transporting to read as it is easy to use.

From classic recipes, some centuries old, to updated innovations, 
Paris Sweets
 provides a sumptuous guide to creating cookies, from the fabled madeleine to simple, ultra-buttery sables; tarts, from the famous Tatin, which began its life as an upside-down error, to a delightful strawberry tart embellished with homemade strawberry marshmallows; and a glorious range of cakes–lemon-drenched "weekend cake," fudge cake, and the show-stopping 
Opera
. 
Paris Sweets
 brims with assorted temptations that even a novice can prepare, such as coffee éclairs, rum-soaked babas, and meringue puffs. Evocative portraits of the pastry shops and chefs, as well as information on authentic French ingredients, make this a truly comprehensive tour.

An elegant gift for Francophiles, armchair travelers, bakers of all skill levels, and certainly for oneself, 
Paris Sweets
 brings home a taste of enchantment.