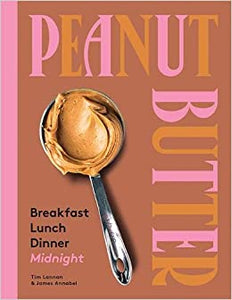 Peanut Butter: Breakfast, Lunch, Dinner, Midnight by Tim Lannan and James Annabel
Regular price $14.99 Sale
Hardcover 
Gone are the days when peanut butter was just spread on white-bread sandwiches – not that there's anything wrong with that! 

With more that 60 surprising and scrumptious recipes, Peanut Butter: Breakfast, Lunch, Dinner, Midnight has a peanut butter match for any hour of the day. Learn how to make (or buy) the best peanut butter before launching into creative toast toppings or a PB&J breakfast parfait. Take it to the next level with smoky barbecue tacos and espresso martinis. And finish things off with guilt-free peanut butter treats: yoghurt pops for the kids, salted caramel cheesecake for the big kids, and even dog biscuits for the most important member of the family.

Whether you like your peanut butter smooth or crunchy, sweet or savoury, or straight from the jar, this book is the essential companion for all peanut butter nutters.