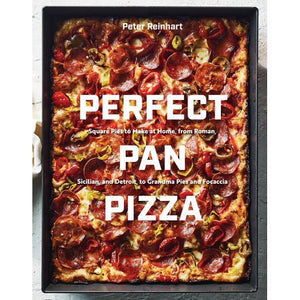 Perfect Pan Pizza Square Pies To Make At Home, from Roman, Sicilian, and Detroit, to Grandma Pies and Foccacia by Peter Reinhart
Regular price $22.99 Sale
Hardcover
An in-depth guide to pan pizza from baking authority Peter Reinhart, including achievable recipes for making Detroit-, Sicilian-, and Roman-style pan pizzas and focaccias in a home oven.
NAMED ONE OF THE BEST COOKBOOKS OF THE YEAR BY FOOD NETWORK
This new book from bread legend Peter Reinhart is a lushly photographed ode to the pan pizza, a doughy, crispy, crowd-pleasing version of everyone's favorite food that is easy to make in a home oven without specialty equipment like stones and peels. Starting with recipes for three master doughs that can be made with commercial yeast, as well as a brief intro to sourdough starters, Perfect Pan Pizza illustrates how to make several styles of pan pizza including Detroit-style deep pan pizza, focaccia and schiacciata, and Roman and Sicilian styles through step-by-step photographs. The pizzas include classic toppings like pepperoni and mushrooms, as well as an exciting variety of recipes like the sandwich-inspired Philly-style Roast Pork and Broccoli Rabe; Reuben pizza; Bacon and Egg with Tomato and Arugula Pizza; Blue Cheese, Balsamic Onion Marmalade, and Walnut Focaccia; and Rosemary Garlic Potato, Baby Kale, and Prosciutto Pizza Al Taglio. With unique recipes, plenty of informative FAQs for beginners, and a permissive and inspiring tone, this book will appeal to both experienced bread bakers and novice home pizza makers alike.