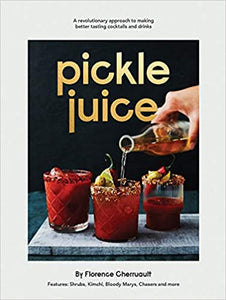 Pickle Juice A Revoltionary Approach To Making Better Tasting Cocktails and Drinks by Florence Cherruault
Regular price $19.99 Sale
Hardcover
Pickles have been considered a health food for centuries. FACT: Cleopatra credited pickles as contributing to her health and legendary beauty, and Julius Caesar is also said to have fed them to his troops to boost their strength! So what's the big Dill? Even for the most avid pickle fan, downing a glass of briny pickle juice may sound like a step too far – but you might want to think twice before you toss it away.

Pickle Juice shows you how to use homemade or store-bought pickle juice to great effect with over 40 innovative recipes for cocktails and health drinks. Florence Cherruault starts off by showcasing a variety of easy pickle juice recipes that can be incorporated into exciting and inventive tipples. Take the spicy Pickled Bloody Mary, the best cure for any hangover, or beat away those January blues with a tasty and nourishing Hot Spiked Cider. As well as cocktails you'll also find recipes for detoxing smoothies, flavored vinegars, shrubs, batched cocktails, and more!

Naughty but nice all the same time, Pickle Juice will revolutionize your home-bar and transform the way you drink.