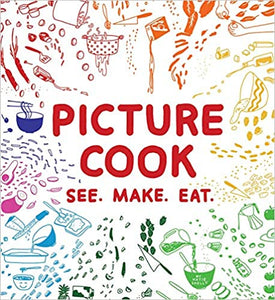 Picture Cook See. Make. Eat. by Katie Shelly
Regular price $10.00 Sale
Hardcover
"Really great graphics" ―Mark Bittman, The New York Times

"An ingenious cookbook" ―Mark Wilson, Fast Company: Design

RECIPES WITHOUT READING

With illustrations instead of text, Picture Cook will reinvent the way you make food. Over 50 homey recipes are distilled into their most basic components, each rendered step-by-step in enchanting line drawings like nothing ever before seen in a cookbook.

Covering everything from omelets and lasagna to chocolate cake, this cheery bunch of recipes will cure your kitchenphobia, delight the design lover in you and satisfy every tummy in your path. Including a visual tutorial on knife skills, illustrated metric conversion chart, and an index especially organized for various dietary needs, Picture Cook makes the perfect gift for budding chefs, college students, or any home cook in need of some visual inspiration.