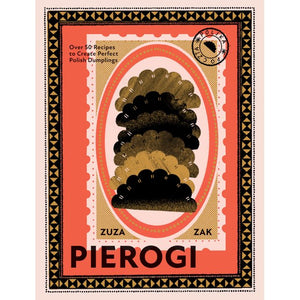 Pierogi by Zuza Zak
Regular price $24.99 Sale
Hardcover
The bible of Polish dumplings, Pierogi is the essential cookbook for learning about this popular food. With over 15 million people of Polish descent in the United States alone, pierogi have become a ubiquitous and instantly recognisable comfort food.
Both traditional and modern, Pierogi is divided into ten chapters across 50 recipes. In North, South, East, West and Central we delve deep into the regions of Poland, along with the dumplings, traditions and stories that define them. In the Modern, Vegan, Festive, Creative and Gluten-free chapters, we find a fun take on dumplings for a contemporary audience. Throughout, the recipes are interspersed with mini-essays on some of the key ingredients used to make pierogi.
With beautiful location photography, thoughts on the history and development of pierogi, and tips and tricks for perfecting them, Pierogi is a deep-dive into this compelling and culturally significant food.