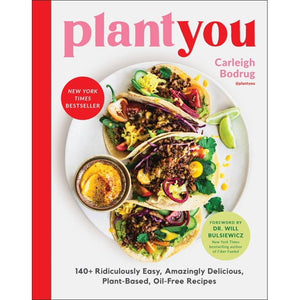 Plant You by Carleigh Bodrug
Regular price $30.00 Sale
Hardcover
Plant-based eating doesn't have to be complicated! The delicious recipes in this easy-to-follow cookbook are guaranteed to keep you inspired and motivated.
Enter PlantYou, the ridiculously easy plant-based, oil-free cookbook with over 140+ healthy vegan recipes for breakfast, lunch, dinner, cheese sauces, salad dressings, dessert and more!
In her eagerly anticipated debut cookbook, Carleigh Bodrug, the Founder of the wildly popular social media community PlantYou, provides readers with the ultimate full color guidebook that makes plant-based meal planning, grocery shopping and cooking a breeze. With every single recipe, you will find a visual infographic marking the ingredients you need, making it easy to shop, determine portion sizes, and dive into the delicious and nutritious dishes.
Get ready for mouthwatering dishes like Chocolate Chip Banana Bread Breakfast Cookies, Best Ever Cauli Wings, and the Big BOSS Burrito that you simply won't believe are made from plants.