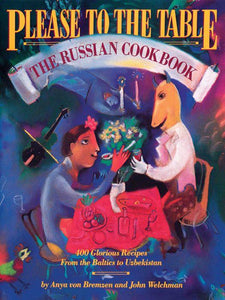 Please to the Table The Russian Cookbook by Anya Von Bremzen
Regular price $29.95 Sale
Paperback
PLEASE TO THE TABLE encompasses the exhilarating pleasures of Soviet cooking-of robust Ukranian borschts and classic Russian cuisine, of healthy Georgian grains and yogurts and the delicately perfumed pilafs of Azerbaijan. Its 400 recipes are a revelation.
From the Baltic Republics: Cold Veal Meat Loaf with Horseradish Sauce. Pork Chops with Apples Braised in Beer. Carrot Baba. Estonian Rye Cookies. Black Bread, Apple, and Cherry Pudding.
From Russia: Sour Cherry Soup. Shchi. Chicken Cutlets Pozharsky. Steamed Salmon with Sorrel and Spinach Sauce. Fried Potatoes with Wild Mushrooms. Blini. Russian Cranberry Mousse.
From the Caucasus: Armenian Lentil and Apricot Soup. Grilled Chicken with Garlic and Walnut Sauce. Grilled Trout with Tarragon. Asparagus with Egg, Garlic, and Lemon Sauce. Saffron Pudding.
From Central Asia: Asian Radish Salad. Uzbek Lamb Kebabs. Spicy Carrots with Cumin Seeds. Chicken Pilaf with Nuts and Candied Orange Peel. Poached Quinces.
From the Ukraine: Borscht with Apples and Beans. Potato, Feta, and Scallion Salad. Chicken Kiev. Roast Pork Loin with Caraway Seeds. Vareniki. Almond Raspberry Torte.
Anya von Bremzen, a native of Moscow who emigrated to the West in the mid-1070s, is a food writer and food consultant. John Welchman is a travel and food writer who, like Ms. Von Bremzen, specializes in writing about the former Soviet Union. Together they spent three years working on PLEASE TO THE TABLE, traveling extensively through the former USSR, visiting professional chefs, touring markets, and sampling and gathering dishes.