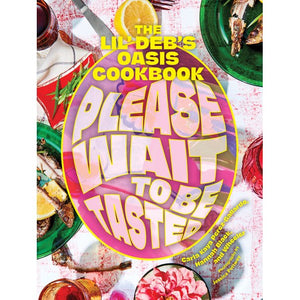 Please Wait to be Tasted The Lil' Deb's Oasis Cookbook by Carla Kaya Perez-Gallardo, Hannah Black, and Wheeler
Regular price $35.00 Sale
Hardcover
Home cooks will love serving up bold-flavored tropical comfort food from Please Wait to Be Tasted, the first cookbook from Lil' Deb's Oasis, the James Beard Award-nominated hotspot in Hudson, New York. More than a recipe collection, it's a big-hearted celebration of food, love, and community.
For flavor-craving, art-loving, community-celebrating home cooks,
Please Wait to Be Tasted
serves up tropical comfort recipes, alongside musings on wine, music, love, sex, friendship, and fashion. At Lil' Deb's Oasis in the Hudson Valley of New York, chefs Carla Kaya Perez-Gallardo and Hannah Black, both art school graduates, have created a bright, welcoming, rainbow-colored, LGBTQ+ inclusive community, where guests are treated to hot, sticky, juicy, moist fever dreams of flavor. Their recipes mesh respect for cultural traditions with a twist: Ceviche Mixto with Popcorn; Charred Octopus in the Ink of Its Cousin, Sweet Plantains with Green Cream, Abuela's Flan, and more. With Please Wait to be Tasted (a phrase featured in the restaurant's waiting area), you can bring these recipes home.
In addition to some seventy recipes,
Please Wait to Be Tasted
shares the knowledge and love that go into making memorable meals at Lil' Deb's Oasis: essays on the restaurant's beginnings and the chefs' navigation of the colonial histories entangled in their recipes' origins; tips on techniques, tools, and pantry; and lessons on how to eat well together.