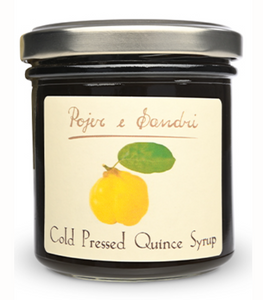 Pojer & Sandri Cold Pressed Quince Syrup
Regular price $17.00 Sale
Pojer e Sandri Cold Pressed Quince Syrup is made from 100% cold concentrated quince juice, and nothing else. 
Their estate's orchard is located at 700 meters and is surrounded by forest, an ideal location for organically cultivating two varieties of quince, Ronda and Silver. Every fall, they cold press carefully selected fruit into juice. Using a unique vacuum processing, Pojer e Sandri are able to concentrate the quince juice to a thick, maple syrup consistency without adding any sugar. Thus, the intrinsic characteristics of the quince remain intact in the final product. 
Pojer e Sandri has truly captured the essence of quince. Unlike most sugary syrups, this Quince Syrup bursts with a tannic tartness balanced by just enough natural sweetness. The quince fruit's distinct aromas and notes of plum, molasses, and pine are concentrated. One spoonful packs a flavorful punch that evokes the mountainous region from which it originates.