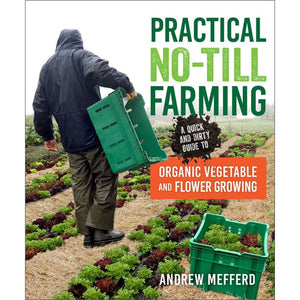 Practical No-Till Farming by Andrew Mefferd
Regular price $34.99 Sale
Paperback
Practical No-Till Farming is the ultimate guide to getting started with organic no-till growing methods. Coverage includes pros and cons of different no-till methods, customizing no-till for your farm, detailed how-to for each method, relative costs, handling pernicious weeds, and boosting soil health and crop yield.
Do less, produce more, and grow soil that feeds crops using chemical-free, organic no-till methods
No-till farming methods are taking small-scale farming by storm, promising less work, higher productivity, improved soil health, carbon sequestration, and weed control for organic growers.
Yet there are many ways to do no-till, including mulching with compost, cardboard, straw, silage tarps, and more. Plus plenty of conflicting advice on how to get started.
Practical No-Till Farming is here to help, sorting the wheat from the chaff and the horse manure from the plastic mulch. Coverage includes:
How to assess your farm for no-till options considering climate, soil, and crop selection
Assessment of common no-till methods, including pros and cons, materials, and the relative costs
A decision-making matrix for choosing the most appropriate methods for your context
How-to for each no-till method, including what to do and when
Dealing with bindweed, symphylans, and other difficult weeds and pests
Maximizing productivity of no-till beds
Special coverage of both organic vegetable and flower no-till market farming
Ideal for small-scale growers everywhere, Andrew Mefferd, veteran farmer, author of The Organic No-Till Farming Revolution, and editor of Growing for Market magazine, brings you the ultimate guide to getting started with no-till farming.