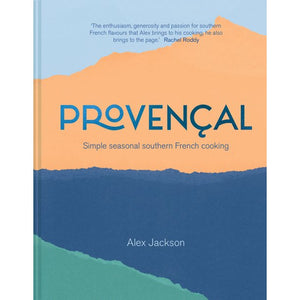 Provencal by Alex Jackson
Regular price $34.99 Sale
Hardcover
Cook the simple and flavoursome food of the South of France with acclaimed chef Alex Jackson's Provencal.
Provencal is the stunning reissue of Alex Jackson's widely acclaimed first book Sardine. This unique collection of recipes encapsulates the beauty and simplicity of Provencal French cooking and shows you how to recreate the flavours of the South of France at home.
Provence and Languedoc are France's window onto the Mediterranean Sea and all that lies beyond, and the culinary influences that converge there make for a cuisine that is varied, rich and deep. The recipes are unpretentious and seasonal, highlighting Alex's belief that cooking the food of Provence is about simplicity, good ingredients and generosity of spirit. Lovingly described, the recipes evoke the South of France with their warmth and flavour; from Bouillabaisse and Autumnal Grand Aïoli to a Tomato and Tapenade Tart and Nougat Ice Cream with Fennel Biscuits. The book is divided into seasons and each season contains a 'Grande Bouffe' - a set menu for a feast - so you can really impress your guests and celebrate many wonderful ingredients in one evening's cooking.
Provencal promises to reignite a love affair with French provincial cooking, celebrating its multitude of influences, its focus on seasonal eating and, ultimately, an attitude to food which centres around sharing and enjoyment.