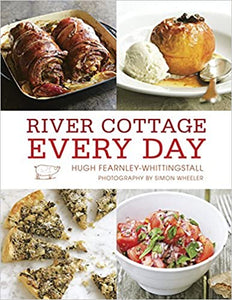 River Cottage Every Day by Hugh Fearnley-Whittingstall
Regular price $30.00 Sale
Hardcover
In 
River Cottage Every Day
, Hugh shares the dishes that nourish his own family of three hungry school-age kids and two busy working parents—from staples like homemade yogurt and nut butters to simple recipes like Mixed Mushroom Tart; Foil-Baked Fish Fillets with Fennel, Ginger, and Chile; and Foolproof Crème Brûlée.
 
Hugh brings his trademark wit and infectious exuberance for locally grown and raised foods to a wide-ranging selection of appealing, everyday dishes from healthy breakfasts, hearty breads, and quick lunches to all manner of weeknight dinners and enticing desserts. Always refreshingly honest, but without sermonizing, Hugh encourages us to build a close relationship to the sources of our food and become more involved with the way we acquire and prepare it. But he doesn't shrink from acknowledging the challenges of shopping and cooking while juggling the demands of work and family. So while Hugh offers an easy recipe for homemade mayonnaise, he admits to having a jar of store-bought mayo lurking in the fridge, just like the rest of us!
 
Including helpful and encouraging advice on how to choose the finest meat, freshest fish, and most mouthwatering fruits and vegetables, 
River Cottage Every Day
 shows us that deliciously prepared and thoughtfully sourced meals can be enjoyed every day of the year.