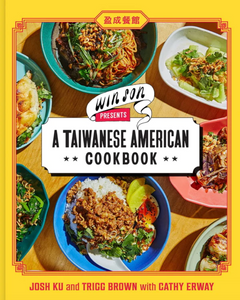 SOLD OUT: SAT FEB 4 / Win Son Presents a Taiwanese American Cookbook
Regular price $40.00 Sale
5 to 7p
Join us as we celebrate Taiwanese American cuisine at its most flavorful with the authors of the new Win Son cookbook: Josh Ku, Trigg Brown, and Cathy Erway. The authors will be joined in conversation by the amazing Farideh
Sadeghin. E

xpect some sweet + savory snacks from the book, a Q + A, and a book signing. 


 
About the book:

A modern, brashly flavorful guide to cooking Taiwanese-American food, from Brooklyn's lauded Win Son, Win Son Bakery, and Cathy Erway, celebrated writer and expert on the cuisine

Josh Ku, born in Queens to parents from southern Taiwan, and Trigg Brown, a native Virginian whose mentor was a Taiwanese-American chef, forged a friendship over food—specifically, excellent tsang ying tou, or "flies' head," a dish of chopped budding chives kissed with pork fat. Their obsession with Taiwanese food and culture propelled them to open Win Son together in 2016. The East Williamsburg restaurant quickly established itself as a destination and often incurs long waits for their vibrant and flavorful Taiwanese-American cuisine.

Ku and Brown have teamed up with Cathy Erway, Taiwanese food expert and celebrated writer, to create this book which explores and celebrates the cuisine of Taiwan and its ever-simmering pot of creative influences. Told through the eyes, taste buds, travels, and busy lives of Ku, Brown, and Erway, this book brings the cuisine of this misunderstood island nation into the spotlight. With 100 creative, yet accessible recipes, this book will unravel the history of this diaspora cuisine. While featuring classic dishes and well-known favorites, this cookbook also stretches this cuisine's definition, introducing new dishes with brazen twists that are fun, flavorful, and decidedly American-born in style.
Josh Ku, co-owner of Win Son and Win Son Bakery, is a multitalented former property and construction manager from Long Island. Win Son (meaning "abundance") is named after Josh's grandfather's former textile company in Taiwan.
Trigg Brown is the chef and co-owner of Win Son. He worked under Taiwanese-American chef Pei Chang at Keswick Hall and Golf Club, who introduced him to the island nation and encouraged him to advance his culinary talents. Brown has also worked at several esteemed restaurants, including Colicchio & Sons, Craft, and Upland.
Cathy Erway is a James Beard Award-winning food writer and author of The Food of Taiwan, the first cookbook from a major US publisher to explore the food culture of Taiwan. As an expert on the subject, Erway has written about Taiwanese food in publications including TASTE, Eater, Food & Wine, New York magazine, Bon Appetit, Lucky Peach, and more.
Farideh Sadeghin is the host of The Cooking Show and former executive culinary director at Vice's MUNCHIES. Her favorite things include eating, traveling, laughing, and watching The Office.