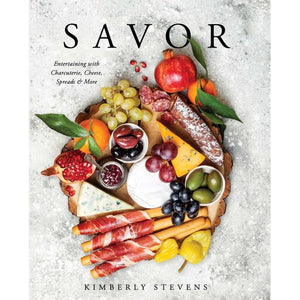 Savor : Entertaining with Charcuterie, Cheese, Spreads & More! by Kimberly Stevens
Regular price $24.95 Sale
Hardcover
A Comprehensive Guide to Serving Boards. The art and pleasure of beautifully composed charcuterie boards--demystified and made simple!
Serving boards possess an uncanny ability to mirror the mood of a host and transform a room's ambiance as friends and family gather around them to both eat and enjoy time together. Savor lavishly details how to create memorable and delicious serving boards, no matter the season or the occasion. Expert advice and insights provide strategies and approaches for composing boards that balance flavor profiles and textures, using elegant and inventive recipes. Inside You'll Find:
- Expert Advice and Recipes from Murray's Cheese, Publican Market, The Cheese Store of Beverly Hills, Lady & Larder, Mike's Hot Honey, Blake Hill Preserves, Esters Wine Shop & Bar, and Vermont Creamery 
- Practical & Delicious Guides on how to pair cheeses, meats, condiments, and an array of other ingredients that can be used on serving boards. Also included are suggested drink pairings. 
- Over 100 Recipes for crackers and bread, preserves, pickles, flavored nuts, dips, spreads, some bigger bites, and even desserts
Kimberly Stevens is a seasoned food writer and journalist who has contributed extensively to The New York Times and written stories for The Los Angeles Times, The Wall Street Journal, numerous national magazines, and online publications. She is based in Los Angeles, where in her spare time she battles a severe addiction to cookbook collecting, shops at the farmer's market, and makes meals for friends and family.
Elevate your home entertaining with Savor!