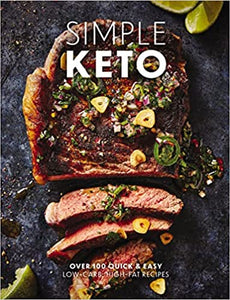 Simple Keto by Cider Mill Press
Regular price $27.95 Sale
Hardcover
Limiting your sugar and carbs doesn't mean giving up good food with over 100 easy and delicious recipes in Simple Keto.
With easy-to-follow recipes and sweet and savory meals for all occasions, following the ketogenic diet has never been easier. These energy-packed meals will satisfy all cravings and shorten your cooking time. Keto experts and beginners alike will gain a better understanding of the ketogenic diet. This cookbook simplifies everything keto, and you'll not only lower blood pressure, improve cholesterol, control blood sugar, and increase energy levels, but benefit from a sustainable, healthy lifestyle. Reclaim control of your health with hassle-free recipes that will have you eating and feeling great. Simple Keto includes:
Over 100 effortless, tasty snacks, appetizers, sides, entrees, and desserts

Macros for each recipe so you'll spend more time enjoying your food, not crunching numbers

Handy tips and tricks to help you incorporate the keto lifestyle Find healthy eats that don't compromise flavor.
With Simple Keto, you can guarantee delicious, keto-friendly results.