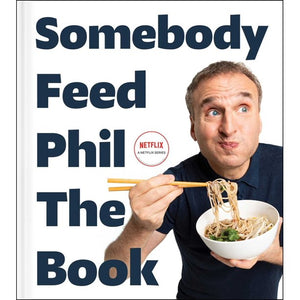 Somebody Feed Phil The Book by Phil Rosenthal
Regular price $32.50 Sale
Hardcover
Phil Rosenthal, host of the beloved Netflix series
Somebody Feed Phil
, really loves food and learning about global cultures, and he makes sure to bring that passion to every episode of the show. Whether he's traveling stateside to foodie-favorite cities such as San Francisco or New Orleans or around the world to locations like Saigon, Tel Aviv, Rio de Janeiro, Mexico City, or Marrakesh, Rosenthal includes a healthy dose of humor to every episode--and now to this book.
In
Somebody Feed Phil the Book
, Rosenthal presents never-before-heard stories from every episode of the first four seasons of the series, along with more than sixty of viewers' most requested recipes from acclaimed international chefs and local legends alike (including Rosenthal'​s favorite sandwich finds from San Francisco to Tel Aviv), so you can replicate many of the dishes from the show right at home. There are also "scripts" from some of Rosenthal's video phone calls from the road with his family making this the ultimate companion guide for avid fans of the show as well as armchair travelers and adventurous at-home chefs.