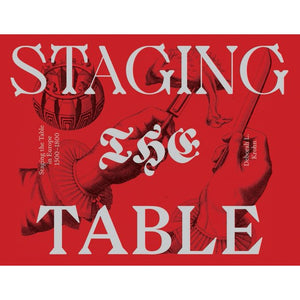 Staging the Table by Deborah L. Krohn
Regular price $60.00 Sale
Paperback
A first of its kind exploration of early modern European culinary history.
Staging the Table in Europe represents the first book-length study of sixteenth- and seventeenth-century illustrated handbooks for cooking and dining that provided instruction for nearly every element of the dining experience, from expertly carving meats and fruits to folding napkins into animal forms, performing tableside magic tricks, and creating tablescapes for courtly banquets. Deborah L. Krohn opens a window into a world of culinary spectacle and sheds light on what became a pan-European culture of elaborate performance surrounding the preparation and presentation of food.

Krohn shows that the rise of instructional manuals followed the decline of formalized, in-person modes of craft education, such as guilds and familial instruction. More broadly, she demonstrates how these manuals illuminate the material and social worlds of their readers. Beautifully illustrated, Staging the Table in Europe reveals the rich material culture that accompanied lavish banquets and state events as well as everyday dining, enabling readers to imagine the tastes, smells, and sights of Europe's early modern culinary world.