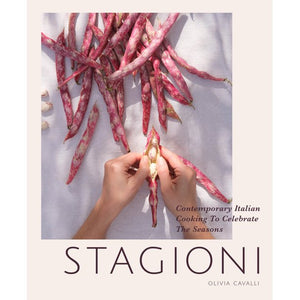 Stagioni by Olivia Cavalli
Regular price $29.99 Sale
Hardcover
Stagioni, meaning 'seasons' in Italian, will take you on a journey through the culinary year with recipes for every craving and occasion. Chef and food writer Olivia Cavalli brings together traditional recipes and contemporary creations with an enthusiastic aim to put the best produce of each moment centre stage.
From refreshing summer salads to steaming bowls of wintery pasta, you'll find classics such as aubergine parmigiana, stuffed tomatoes and amaretti peaches alongside more unusual combinations of chestnut gnocchi, grape focaccia and courgette cake. The occasional addition of meat and fish enhances rather than dominates, although recipes can easily be adapted for vegetarians and flexitarians, making these dishes fit seamlessly into a modern way of eating.
Whether you're looking for a simple solo supper or cooking for a hungry crowd, this collection of colourful recipes will guide you from cosy winter evenings into the dappled sunlight of summer, drawing inspiration from Italy's beautiful seasonal produce along the way.