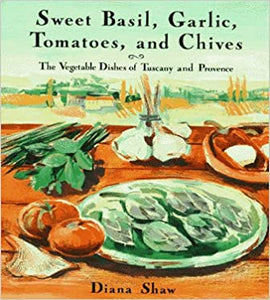 Sweet Basil, Garlic, Tomatoes, and Chives by Diana Shaw
Hardcover
In Sweet Basil, Garlic, Tomatoes, and Chives, Diana Shaw has created irresistible vegetarian soups and salads, hearty main courses, and delicious desserts inspired by the culinary traditions of two bountiful regions: Tuscany and Provence.

The cuisines of Tuscany and Provence are fresh, fast, and affordable. Historically they are resourceful peasant food, relying heavily on vegetables and grains, which make them an ideal subject for the author of Vegetarian Entertaining. Whether a stew, gratin, pasta, pizza, or pastry, each dish in Sweet Basil, Garlic, Tomatoes, and Chives takes full advantage of the herbs and produce these regions are renowned for, calls for no meat at all.

Divided into seven chapters, from sauces to desserts, this book includes some 130 time-honored recipes, combining herbs, grains, produce, and cheeses. Each dish in this collection is delicious, health-conscious, and easy to prepare, from Potato and Vegetable Soup to Tomato and Goat Cheese Salad with Basil, from Onion Tart to Creme Brulee.

Sprinkled throughout the book are warm and charming recollections from the author's journeys to the two regions. On ever page of Sweet Basil, Garlic, Tomatoes, and Chives, you will relish her tales of Tuscany and Provence, and savor tile vegetable dishes the seasons bring to hand.