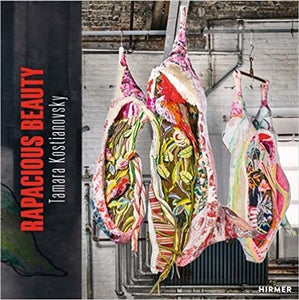 Tamara Kostianovsky: Rapacious Beauty
Regular price $8.97 $35.00 Sale
Hardcover
Tamara Kostianovsky's contemporary art combines beauty, violence, and post-colonial aesthetics.

Latinx artist Tamara Kostianovsky began using her discarded clothes as artistic material shortly after immigrating to the United States, addressing cultural and physical displacement, assimilation and identity, and the brutal history of Latin America. Today, these emotionally charged materials coalesce in a post-colonial vision for an ecological future.

Tamara Kostianovsky creates sculptures from textiles that address the relationship between landscapes, the body, and violence. This volume highlights the distinct bodies of her work including sculptures of butchered carcasses, slain birds, and severed trees. Built with layers of texture, color, and emotion, these works dive head-first into the tension between beauty and horror, confronting histories of systemic violence and transforming them into utopian environments.