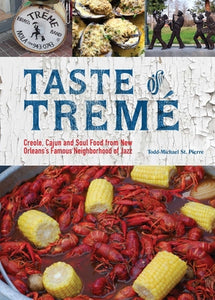 Taste of Treme Creole, Cajun and Soul Food from New Orleans's Famous Neighborhood of Jazz by Todd Michael St Pierre
Regular price $29.95 Sale
Hardcover
LAISSEZ LES BONS TEMPS ROULER
In Tremé, jazz is always in the air and something soulful is simmering on the stove. This gritty neighborhood celebrates a passion for love, laughter, friends, family and strangers in its rich musical traditions and mouth-watering Southern food. Infuse your own kitchen with a Taste of Tremé by serving up its down-home dishes and new twists on classic New Orleans favorites like:

Muffuletta Salad
Chargrilled Oysters
Crawfish and Corn Beignets
Shrimp and Okra Hushpuppies
Chicken and Andouille Gumbo
Roast Beef Po' Boy
Creole Tomato Shrimp Jambalaya
Bananas Foster

Including fascinating cultural facts about the music, architecture and dining that make up Tremé, this book will have your taste buds tapping to the beat of a big brass band.