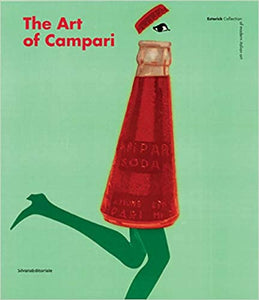 The Art of Campari
Regular price $35.00 Sale
Paperback 
Since its founding in Milan in 1860, Campari has been responsible for some of the most distinctive and innovative advertising images created in Italy, as the company harnessed the new power of the advertising poster to market its products. 

Aiming to create a sophisticated brand profile, Campari worked with some of the most celebrated designers of the early 1900s, including Leonetto Campiello, Marcello Dudovich, Adolf Hohenstein and Marcello Nizzoli. However, it was the groundbreaking campaigns created by Futurist artist Fortunato Depero that became Campari's most celebrated commissions. From the mid-1920s, Depero's bold, witty and geometric designs modernized Campari's look. 

Drawn from the company's extensive archives in Milan, The Art of Campari surveys the brand's quintessentially modern visual identity in posters, original artwork and vintage crates, glasses, plaques and other ephemera, from the Belle Époque to the postwar period.