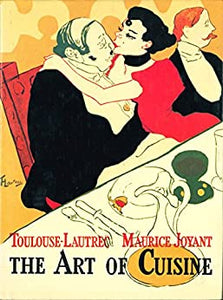 The Art of Cuisine by Henri de Toulouse-Lautrec and Maurice Joyant
Regular price $65.00 Sale
Hardcover
Henri de-Toulouse-Lautrec brought to his art a zest for life as well as an impeccable style. It is an exciting discovery to find that Lautrec applies this same exuberance and meticulous technique to the art of cuisine--that he invented recipes and cooked new dishes as an artistic creation worthy of his serious attention.

This volume is a collection of the recipes that Lautrec invented, or were garnered in his company from acquaintances of all classes of society. It has been illustrated with the menus that Lautrec himself designed and decorated, as well as with a rich abundance of other appropriate Lautrec paintings and drawings. The frontispiece is a portrait by Edouard Vuillard of lautrec preparing one of his masterful dishes.

The recipes are given here in their original form, retaining their color of thought and language. The only modifications are culinary notes that have been added to facilitate the work of modern cooks.

Lautrec took great pride in his culinary ability, and if he felt it would not be appreciated, he would say that some people "are not worth of ring dove with olives, they will never have any and they will never know what it is." Lautrec planned meals carefully, made beautifully decorated menus, and was inspired by the dinners to draw more sketches of the dinners, and of the food.

He also brought to cuisine, as to the rest of his life, a marvelous wit. Who could forget the invitation to eat kangaroo, in honor of an animal that he had seen boxing at a circus (it was replaced at the last moment by an enormous sheep with an artificial pouch): or the housewarming of the apartment of his friend Natanson, where in a crazy atmosphere, he managed to intoxicate the artistic elite of Paris and launch the fashion of cocktail food.

We owe the record of this cuisine (and also of a great body of the art collection itself) to Maurice Joyant. Joyant and Lautrec had been childhood friends, and their intimacy was renewed and deepened during the Montmartre years, when Lautrec's fame was growing and Joyant was director of the same art gallery in Paris that Theo Van Gogh had run before him. Lautrec was, throughout their relationship, the artist and innovator; Joyant, the steadying influence, the protector, and, after the painter's death, the executor. This book is a tribute to their friendship and to their daily intercourse in art and in cuisine. Thus, art, friendship, and food have come together in The Art of Cuisine as a joyful legacy of Henry de Toulouse-Lautrec and Maurice Joyant.