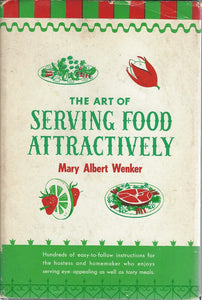 The Art of Serving Food Attractively - Hundreds of easy-to-follow instructions for the hostess and homemaker who enjoys serving eyeappealing as well as tasty meals by Mary Albert Wenker
Hardcover
Serving Food Attractively contains hundreds of easy-to-follow instructions for the hostess and homemaker who enjoys serving eye appealing as well as tasty meals.
The Art Of Serving Food Attractively begins with the general rules for garnishing the do's and dont's and then goes on to give complete, easy to follow instructions for every suitable garnish for every type of food, appetizers, beverages, breads, cakes and cookies, desserts, fish, meats, and many others - with a special chapter on decorating trays.
Serving Food Attractively is an excellent addition to your vintage home entertaining collection or home library.