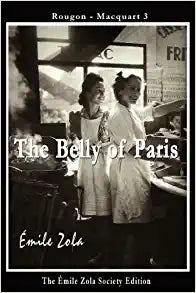 The Belly of Paris by Emile Zola
Regular price $29.00 Sale
Paperback

You will always find someone who buys you a drink, but no one will ever buy you food!
It is dishonest to be hungry!
Zola's volume 3 in the Rougon Maquart series is at its core about the disgusting bourgeoisie, who will love government as long as business is profitable. The food market "Les Halles" has recently been built, in the course of Haussmann's redesign of Paris, and it is a wonder of modern society. A side character, the painter Claude (later the hero of the sequel The Masterpiece), says: what a shame that the bourgeois scoundrels get to eat all this food!

Our hero Florent is a man who was unjustly banned to Devil's Island during the Coup d'Etat of Napoleon III. He escapes and finds his way back to Paris, where he tries to live in the Halles world, under a fake identity. Problem: too many people know him from old times! And he can't stay away from political circles, though he is harmlessness personified.
Clandestine life might still work, but he is a danger to his brother's wellbeing. The brother is not the main problem, but his wife is. The couple runs a successful butchery in the area and can't risk being identified with a runaway convict, a political prisoner! On top of that, Florent might eventually want his rightful share in the successful business, or at least of the inheritance that bought it. He must go back to the devil!