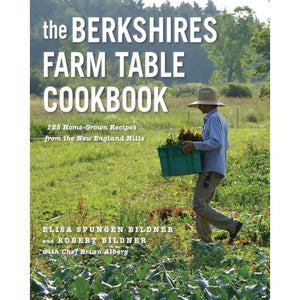 The Berkshires Farm Table Cookbook by Elisa Spungen Bildner and Robert Bildner with Chef Brian Alberg
Regular price $20.00 Sale
Paperback
The best of the Berkshires' homegrown food from noted farms to esteemed kitchens.
The Berkshire Hills of western Massachusetts are famous for their unique culture, from scenic views to artistic and literary attractions. But in addition to the region's classic landmarks, the Berkshires also boast an impressive number of family-run farms. Together with local restaurants, these farms add another feature to Berkshires culture: heartwarming and homegrown food.
Telling the story of family-run agriculture through the language of food, The Berkshires Farm Table Cookbook offers 125 recipes to recall the magic of the Berkshire region for readers far and wide. Sweet Corn Pancakes, Carrot Soup with Sage and Mint, Confetti Vegetable and Goat Cheese Lasagna, and more celebrate the lush landscape of the western New England area. Complete with farm profiles and vibrant photographs, The Berkshires Farm Table Cookbook paints a vivid portrait of the relationship between the earth and what we eat.