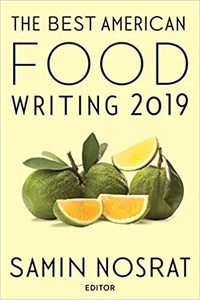 The Best American Food Writing 2019 by Samin Nosrat
Regular price $15.99 Sale
Paperback 
A NATIONAL BESTSELLER

New York Times best-selling author and James Beard Award winner Samin Nosrat collects the year's finest writing about food and drink.

"Good food writing evokes the senses," writes Samin Nosrat, best-selling author of Salt, Fat, Acid, Heat and star of the Netflix adaptation of the book. "It makes us consider divergent viewpoints. It makes us hungry and motivates us to go out into the world in search of new experiences. It charms and angers us, breaks our hearts, and gives us hope. And perhaps most importantly, it creates empathy within us." Whether it's the dizzying array of Kit Kats in Japan, a reclamation of the queer history of tapas, or a spotlight on a day in the life of a restaurant inspector, the work in The Best American Food Writing 2019 will inspire you to pick up a knife and start chopping, but also to think critically about what you're eating and how it came to your plate, while still leaving you clamoring for seconds.