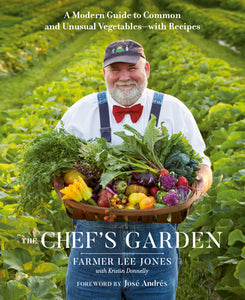 The Chef's Garden A Modern Guide to Common and Unusual Vegetables with Recipes by Farmer Lee Jones
Regular price $60.00 Sale
Hardcover
An approachable, comprehensive guide to the modern world of vegetables, from the leading grower of specialty vegetables in the country

Near the shores of Lake Erie is a family-owned farm with a humble origin story that has become the most renowned specialty vegetable grower in America. After losing their farm in the early 1980s, a chance encounter with a French-trained chef at their farmers' market stand led the Jones family to remake their business and learn to grow unique ingredients that were considered exotic at the time, like microgreens and squash blossoms. They soon discovered chefs across the country were hungry for these prized ingredients, from Thomas Keller in Napa Valley to Daniel Boulud in New York City. Today, they provide exquisite vegetables for restaurants and home cooks across the country.

The Chef's Garden grows and harvests with the notion that every part of the plant offers something unique for the plate. From a perfect-tasting carrot, to a tiny red royal turnip, to a pencil lead-thin cucumber still attached to its blossom, The Chef's Garden is constantly innovating to grow vegetables sustainably and with maximum flavor. It's a Willy Wonka factory for vegetables.

In this guide and cookbook, The Chef's Garden, led by Farmer Lee Jones, shares with readers the wealth of knowledge they've amassed on how to select, prepare, and cook vegetables. Featuring more than 500 entries, from herbs, to edible flowers, to varieties of commonly known and not-so-common produce, this book will be a new bible for farmers' market shoppers and home cooks. With 100 recipes created by the head chef at The Chef's Garden Culinary Vegetable Institute, readers will learn innovative techniques to transform vegetables in their kitchens with dishes such as Ramp Top Pasta, Seared Rack of Brussels Sprouts, and Cornbread-Stuffed Zucchini Blossoms, and even sweet concoctions like Onion Caramel and Beet Marshmallows.

The future of cuisine is vegetables, and Jones and The Chef's Garden are on the forefront of this revolution.