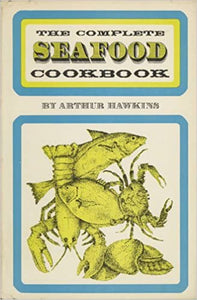 The Complete Seafood Cookbook by Arthur Hawkins
Regular price $12.00 Sale
Hardcover
Low in calories, high in protein, fish is one of the healthiest, tastiest, and most versatile of foods. This comprehensive volume tells the complete story of seafood--from where the various fish and shellfish are found, how they are caught, preserved, bought and cleaned, to the many delicious ways they can be prepared.
The salt water section includes such delights as shad, cod, bluefish, haddock, mackerel, halibut, tuna, herring, and salmon. The second section features mouthwatering ways to prepare fresh water favorites, such as trout, bass, carp, pickerel, pike, sturgeon, and catfish. Still another section contains new and exciting recipes for shellfish (both crustaceans and mollusks) such as crab, lobster, shrimp, crayfish, oysters, clams, mussels, squid, octopus, scallops, and snails.
In addition to more than 300 recipes covering soups, sauces, stuffings, stews, and exotic entrees (to name only a few), THE COMPLETE SEAFOOD COOKBOOK not only tells how to choose fresh seafood but also how much to buy to cover your specific need.
Cleaning fish is a major chore if it is not done right, so Mr. Hawkins has included instructional matter that ranges from scaling fish, cutting fish steaks, and shucking oysters to cleaning crabs, lobster, and squid. his cooking methods are geared to versatility. They run the gamut from pan frying, deep-fat frying, planking, and preparing forcemeat. As an added feature, this unique cookbook gives hints on how to thicken sauces, how to improvise with seasonings, and many, many more.
From irresistible appetizers to detectible desserts, THE COMPLETE SEAFOOD COOKBOOK is the key to easy, healthful, and exciting meals.