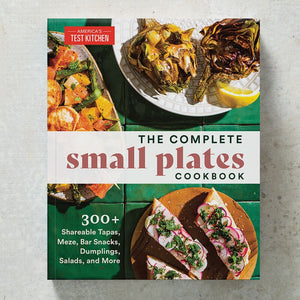 The Complete Small Plates Cookbook 300 Plus Shareable Tapas Meze Bar Snacks Dumplings Salads and More by America's Test Kitchen
Regular price $34.99 Sale
Paperback

Bring the fun adventure of small plates dining home. 
Grazing on several small plates is the creative approach to eating that so many of us enjoy at restaurants these days, tasting our way through little dishes of interesting food. It's flavorful, it's fun, and it can be a culinary adventure. Taking our cue from the popular restaurant trend, we hand-selected the vibrant recipes in this book to bring small plates feasting home. 

Instead of thinking in terms of mains and sides, we approached this collection by thinking about what each plate contributes to the whole and offer guidance and strategies for mixing and matching recipes into winning combinations. What's the occasion, how much food should you serve, how much time do you have (make-ahead options are plentiful)? A robust front section of the book lays it all out and puts you in control.