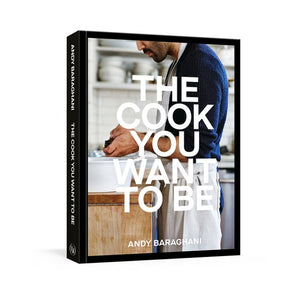 The Cook You Want To Be by Andy Baraghani
Regular price $35.00 Sale
Hardcover
Andy Baraghani peeled hundreds of onions at Chez Panisse as a teenage intern, honed his perfectly balanced salad-making skills at Estela in New York, and developed recipes in the test kitchens of Saveur, Tasting Table, and
Bon Appétit
. It took him all those years to figure out the cook he wanted to be: a cook who is true to his Persian heritage, a fresh-vegetable lover, a citrus superfan, and an always-hungry world traveler. In
The Cook You Want to Be,
Baraghani shows home cooks on how to hone their own cooking styles by teaching the techniques and unexpected flavor combinations that maximize flavor in minimal time.
At
Bon Appétit,
Baraghani created a bevy of viral recipes--from Tahini Ranch to Fall-Apart Caramelized Cabbage--that became household staples. Here, he follows up with more umami-rich dishes, beautiful and restaurant-worthy meals (that take half the time), and well-known dishes recast in utterly delicious ways. Among his debut cookbook's 100 recipes, new surefire hits include Caramelized Sweet Potatoes with Browned Butter Harissa; Sticky, Spicy Basil Shrimp; and Tangy Pomegranate-Chicken. Cooks will find inspiration to riff on, quick meals for hurried weeknights, condiments galore, and memorable meals to impress dinner guests. In essays throughout the book, Baraghani shares convictions (why everyone must make his beloved Persian egg dish, kuku sabzi) and lessons to live by (the importance of salting fish before cooking it).
The Cook You Want to Be
is a trove of go-to recipes and knowledge, stunning photographs, and delicious, simple home cooking for modern times.
Beloved food writer and social media star Andy Baraghani helps you define and develop your personal cooking style—and become the cook you want to be—in more than 100 recipes.