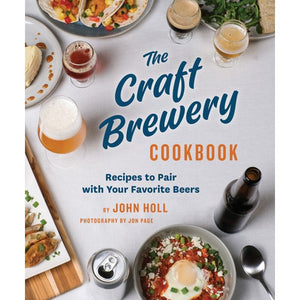 The Craft Brewery Cookbook by John Holl
Regular price $29.95 Sale
Hardcover
Packed with bright, fresh, bold flavors and beer pairings to complement each dish,
The Craft Brewery Cookbook
brings the biergarten straight to your kitchen. Organized into chapters according to beer type, including hoppy ales, lagers and pilsners, wheat beers, and Belgian-style ales, this cookbook will help readers discover each beer's style and flavor profile and how it pairs with the accompanying recipes, each from a different American brewery.
Whether you're a fan of fruited kettle sours or New England IPAs, this cookbook from the co-host of the podcast Steal This Beer will show you how to create the ideal meal to accompany your favorite brew. These mouthwatering dishes--seafood, meat, vegetarian, vegan, and desserts among them--are depicted in photographic detail, showcasing modern, flavorful food rather than typical pub food. This cookbook breathes new life into the concept of food and drink pairing by offering an inspired take on contemporary beer styles and cuisine.
Sample recipes include:
Spicy Fish Ceviche with Grilled Pineapple
Jagerschnitzel with Mushroom Gravy
Mushroom & Vegetable Dumplings with Mango Chili Nuoc Cham
Merguez Spiced Lamb Burger
Warm Farro, Mushroom, and Romanesco Salad
Lemony White Bean and Sausage Soup
Citrus Tres Leches Cake
Air-Fried Chicken Wings with Honey Barbecue Sauce
Smoked Adobo Chicken
Kale Caesar Salad with Miso and Shrimp
Grilled Pumpkin Flatbread
Falafel and Spiced Yogurt
Peanut Butter Bonbons
And many more!
Enjoy over seventy delicious, seasonal recipes from the country's best independent breweries in this cookbook and beer pairing guide—a must-have book for craft beer lovers, home cooks, and fans of homebrewing.