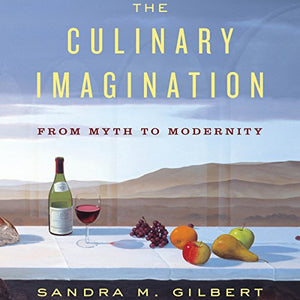 The Culinary Imagination From Myth to Modernity by Sandra M. Gilbert
Regular price $29.95 Sale
Hardcover
From the recipe novel to the celebrity chef, renowned scholar Sandra M. Gilbert explores the poetics and politics of food. In this stunning and important work, she explores our relationship with food and eating through discussions of literature, art, and popular culture. Focusing on contemporary practices, The Culinary Imagination traces the social, aesthetic, and political history of food from myth to modernity, from ancient sources to our current wave of food mania.
What does it mean to transform raw stuff into cooked dishes, which then become part of our own bodies; to savor festive meals yet resolve to renounce gluttony; to act as predators where in another life we might have become prey? Do the rituals of the kitchen have different meanings for men and women, for professional chefs and home cooks? Why, today, do so many of us turn so passionately toward table topics, on the page, online, and on screen? What are the philosophical implications of the food chain on which we all find ourselves?
Gilbert addresses these powerful questions through meditations on myths and memoirs, children's books, novels, poems, food blogs, paintings, TV shows, and movies. Discussing figures from Rex Stout to Julia Child and Andy Warhol, from M. F. K. Fisher and Sylvia Plath to Alice Waters and Peter Singer, she analyzes the politics and poetics of our daily bread, investigating our complex self-definitions as producers, consumers, and connoisseurs of food. The result is an ambitious, lively, and learned examination of the ways in which our culture's artists have represented food across a range of genres.